Convert Any Photo into a Masterpiece
We are an art gallery for digital art created using Artificial Intelligence (AI).   AI is revolutionizing many industries today, but can AI create art?  Yes, using the techniques of deep learning, we can now train an AI to emulate the style of any type of art or artist. 
Art created using AI is as beautiful and unique as art created by humans, and offers endless opportunities to be surprised and
delighted.   Each piece is created by applying the style of masters such as Picasso, Van Gogh, Rembrandt, Da Vinci, et al,  to an original photograph or print using the magic of deep learning.   The result  is a rendering of the photo or print as though it had been painted by one of these masters.   And since the AI algorithm uses millions of parameters, each run produces a different, unique piece of art , even if applying the same style.   Each artwork is truly unique, one-of-a-kind and non-fungible!  
Please browse the gallery  – like something you see?  You can order it as a print or  canvas in a variety of sizes for your home or offices.   
Nothing catches your fancy?  You can also upload your own photos  or prints and convert them into a masterpiece with the help of our AI. Once your artwork is ready you can download  a high-resolution digital copy or order as a print or canvas in a variety of sizes, ready to hang in your home or office.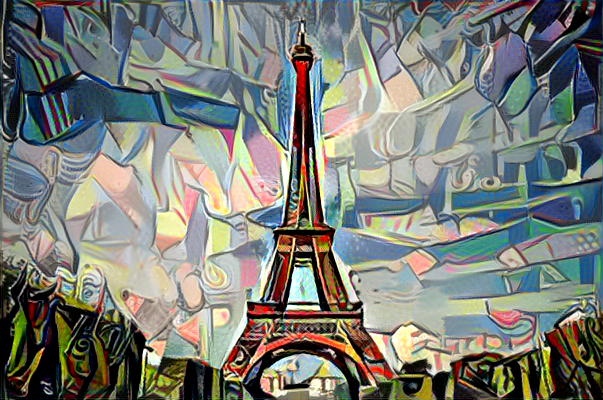 Eiffel Tower - Picasso Style
The Eiffel Tower rendered in the style of Picasso's Les Femes painting.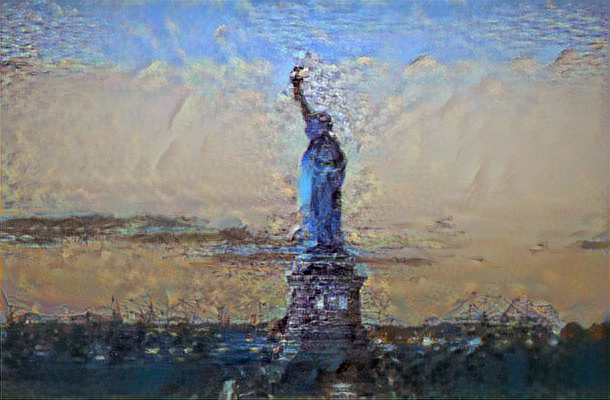 Statue of Liberty - Monet
Statue of Liberty in style of Claude Monet's Cliffs of Etretat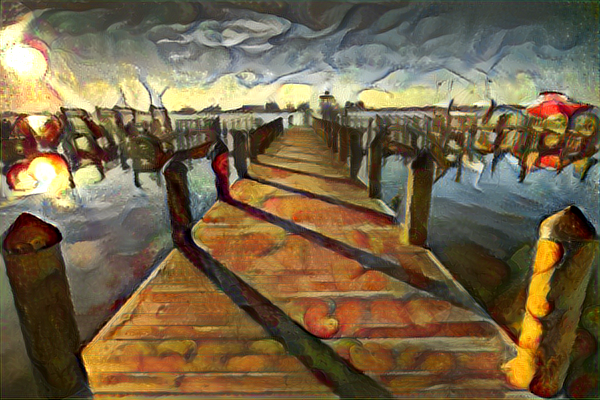 Sunset at the Pier - Cezanne
A sunset at the pier rendered in the style of Paul Cezanne's Le panier de pommes.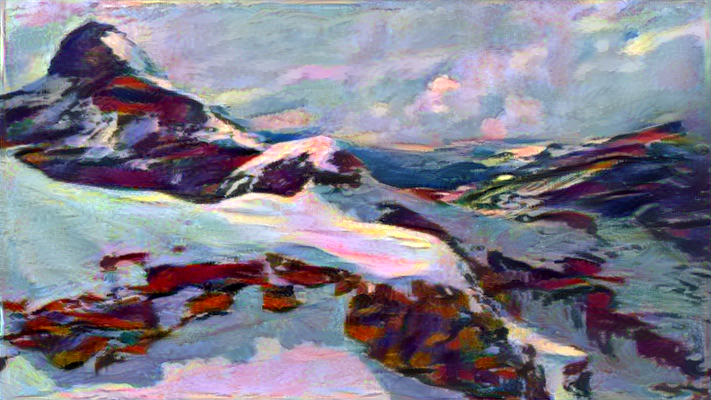 The Swiss Alps - Matisse Style
The Swiss Alps rendered in the style of Matisse's Women With a Hat
You can browse and select from our large collection of AI art or create your own.
It is easy – just upload your favorite photo or print, select a style you like (from hundreds of artworks of the masters) , and let our AI do its magic. We will convert every pixel of your photo into art in the style you selected. Voila! You have just created your own masterpiece. If you used an original picture or photo you now have an orginal, unique piece of art that looks like an old master painted it. And if you like it you can order a framed print that is ready to hang in your home or office.
You can now create your own masterpieces from any photo or print by rendering them in the style of Picasso, Van Gogh, Cezanne, Renoir, Matisse, or in any of hundreds of styles from old masters to modern artists with the help of our unique AI models